Immersive 360° Video & Web VR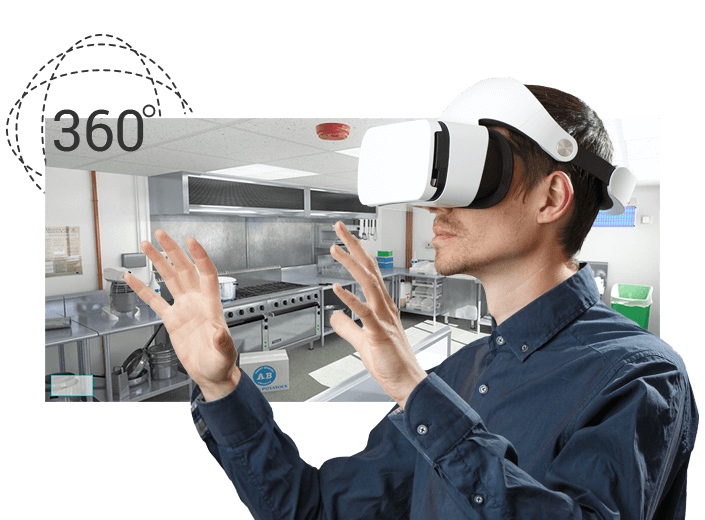 Immersive learning
360° web VR (Virtual Reality) offers the opportunity to immerse and train learners in a realistic or created environment.
We currently have two options when developing this type of learning at ELM.
3D Environment. Here we create virtual environment that your learners can interact with and learn from. 3D environments can be created when;
Areas are inaccessible or hard to get to
Situations are hazardous
Actual scenes are expensive to replicate
Creating a virtual environment gives you complete control over the look and feel of the scene and can be fully customisable to your requirements and learning needs.
Real Environment Working on-site, we come out to your workplace or environment to capture a 360° scene in either HD picture or HD video. We then use this to build the elearning programme, overlaying interactions, hotspots and media into the scene. 360° Video can be used;
To help with induction training
To create an interactive manual
In virtual tours
This is a great way of training and informing learners in an environment that is familiar to them.
Both options are a great way of training learners in an environment where they are safe to fail. We can create a bespoke course as seen in the examples below, or develop individual scenes that can be integrated directly into applications like Storyline and Captivate and most rapid builders.
But do I need a headset?
Using a headset does make for a better immersive experience, however both the 360° video and web VR experience will still be usable with or without a headset.
We can help with:
3D modeling
On-site 360° shoot
VR experience
Custom design and development
Got a project in mind, let's talk!
Contact Elm on 0787 1314 105 or email us and tell us about your project.